Help out a fellow writer.
Hello world. No, I am not dead. I just have been slightly dead. I know I should have been posting about my trip to England, which I will do… eventually. I was sick while I was in England, and then I got sick once I got home. So I have now been sick going on a month. Not fun.
I've also had lots of dyeing to do. I'm gearing up for my big Sherlock Holmes Yarn Club, which starts this January. And when I say starts this January, I mean for the clients. For me.. it started back in September. I've been buying yarn and swag, and designing things, and knitting etc. I've spent the last 2 days dyeing up over 30 skeins of yarn which is only HALF the first month's shipment.
I've got more to dye today once I finish this blog.  I tell ya, once I'm done  with this club, and the Big Ass Order that I've got at the same time… I might have to take a break lol. No, I won't. But I am working on some Super Sekret Projeckts (yes, technical spelling there).
But today I'm going to talk to you about a friend and her book. I am honestly proud of her because she is finally publishing her book. She is going the self publish route, and she has personally given me lots and lots to chew over. She shares her experiences in the back end of the business, to which I find invaluable.
If you are ever interested in her tips, you can read them at her blog here: To Publish or Not To.
Because she has chosen to go the Self Publishing route, a route that I my self might be headed in… that falls to us to help her out.
I'm going to steal her own words now, as it'll give you a tiny idea of her writing style.
"But word of mouth is powerful, and it's a good book.  If you like darkly comic fantasy with lots of sex, complex characters and moral situations, and multi-layered world building, this one is for you.   If you read 100 pages of Twilight and decided the characters were just too damn painful to deal with, if you loved Harry Potter until JKR went off the rails in Deathly Hallows, if you really, really loved some of the fantastic adult oriented fan fiction that Harry Potter inspired, if you wanted to shoot Lev Grossman in the head for inflicting The Magicians on us because nothing happens in the book and the main character is a whiny twit, give Sylvianna a read.  I wrote Sylvianna with those things in mind, creating a book for people who love fantasy and want an intelligent, grown-up version to sink into."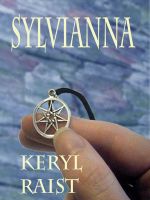 She is offering her book for free. Yes, for FREE.
Simply go to this link: Sylvianna by Keryl Raist on Smashwords and use this code: EN72N
That code is good until January 21st 2011. (whoa, almost wrote 2010… can we tell I'm not ready for it to be the end of the year yet?)
Even if you have NO intention of reading the book, please please download it anyway.
The more downloads a book gets, the higher in ranking it goes. Then the more people who see it, the more likely it is to sell.  Feel free to pass the code around and give it to anyone you want.  She is looking for as many downloads and reads as possible right now.
If you want a physical copy of the book, there is a little widget on the side of my blog. Now if you click through that link, I get a bit of money. And since I'm a not quite, but almost starving artist(writer) trying to finish my own novel… CLICK IT!
Alright, it's time for me to do the dishes, then get back to dyeing… I've got a lot to do in not a lot of time and I still hate being sick.
I will try to get back to a more regularly scheduled blogging. I am also attempting to actually finish my novel and the Super Sekret Projeckt. Those are my goals for 2011.
I hope everyone had a wonderful Christmas, and for those celebrating today a Wonderful Boxing Day.
I myself did not really celebrate, the presents are still under the tree. We are waiting on Mum coming home from dog sitting before we open anything.
I did however, make pumpkin bread for our brekkie, tuna steaks with spinach and sweet potatoes for our dinner, and we had a Japanese chicken noodle soup as well.
Oh, and there was no snow. How about that… not a white Christmas. It kind of amused me.
3 responses