My "Ah ha!" moment from last night.
Last night, I was actually writing.
Woohoo!
Then I hit a wall.
I was trying to describe clothing.
And then I told myself "I will need to research the clothing of the 1890's. Darnit. Can't write anymore tonight."
I started researching a bit. And then it hit me.
It doesn't matter.
I am not writing about London that was.
I am writing about London that never was. Thus, I can play with the clothing a bit. No drastic changes, but I am no longer held to the rules of "this is what they wore in that time period."
I then started zooming when it came to writing again.
So I have a feeling that when it comes to this particular novel, I will have to constantly remind myself "This is my world. Not theirs. My world, my rules."
Moving along. Yesterday Mother of Mine needed new sneakers.
So we hit the shoe stores.
I shouldn't have gone in. I should have just had my mom meet me at Whole Foods next door.
But I went in.
Now, shoe shopping for me has always been a PITA. I mean serious pain.
I've worn a size 7 and up since the 5th grade. I now wear a 10, and have worn a 10 for the last like… Oh well.. since high school.
Finding a pair of shoes that 1)fit, 2)I like, and 3) don't kill my knees is nigh on impossible.
Boots even more so.
I found a pair of sexy sexy black boots.
I made the mistake of trying them on.
I could actually zip them up over my massively large calves (thank you Track when I was a kid)
I didn't wobble. I could walk. they didn't pinch.
And they were 40% off. Sigh. I was suckered in as soon as I saw them.
Next pair of boots.
Not quite as sexy, not a color I would normally buy.
Again, knee high boots. Suede.. Cowboy style heel.
My mind went "Ren Faire?"
For years now, I generally have to leave mid day because the only boots I have, are not good Faire Boots, and my back generally is in too much pain to allow me to continue. Having a low heel is better for our rocky terrain.
These were more expensive.. but they were also 40%
So, for two pairs of boots, I spent 120$
Not bad… If the Ren Faire boots last me even 1 season, and make it possible for me to enjoy myself, then they will have been money well spent. (Not to mention, I can use them while mucking about the field in England.)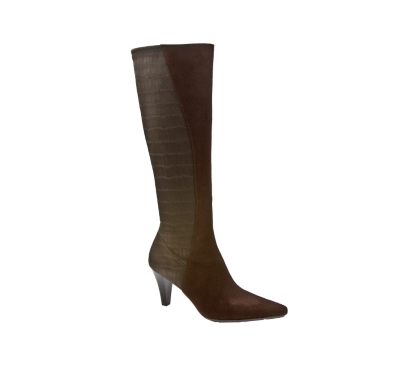 (Only in Black) And yes, I am SOoooo wearing those to Harry Potter and the Half Blood Prince.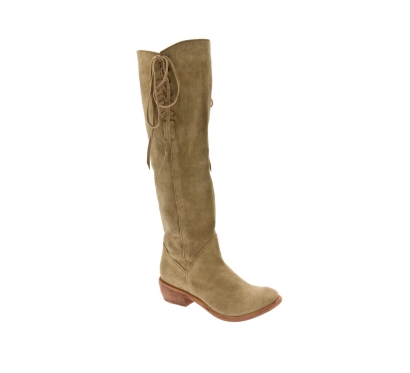 I guess thats all my rambling for now… My body and mind, really do not want to be here at work today.
One response